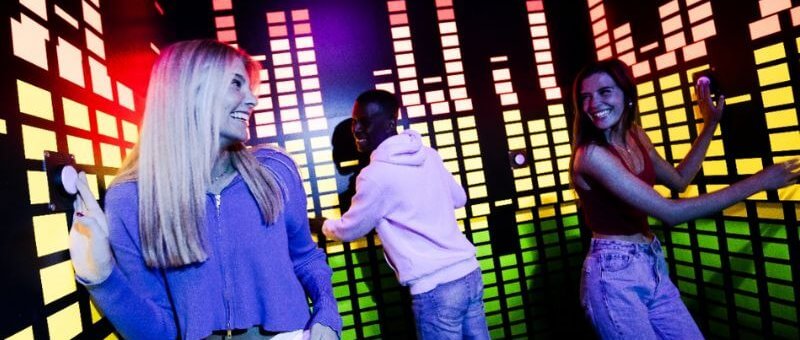 Looking for adventure activities in Belfast? Look no further!
Prison Island is fast becoming Belfast's favourite day out! An adventure you won't want to miss!
25 PRISON CELLS = 25 UNIQUE INTERACTIVE CHALLENGES
1 UNBELIEVABLE EXPERIENCE!
Prison Island is the perfect adventure. Whether you are competitive, or 'Just Here for the Craic' our 25 interactive challenge cells will keep you on your toes and have you coming back for more. With a superb variety of Skill, Mental, and Physical challenges – each lasting One to Five minutes – there is something for everyone to enjoy.
Fans of TV series Fort Boyard or the Crystal Maze will love our experience!
Choose each challenge freely throughout your stay and don't worry, you are never locked in!  Test your teamwork while the clock is ticking and see how many points can be banked in each cell. If you're not happy with your score, just head back into the challenge and repeat it as many times as you want – only your highest score counts!
Climbers, Crawlers, Quizzers, First timers, and Einstein's – GAME ON!
Prison Island is a completely unique experience that will test your skills. Can you maintain composure under pressure?
As you explore the cells, you'll find yourself immersed in the experience. From testing your skills in the "Devil's Island" cell to playing a game of escape in the "Prison" cell, you'll get to experience the thrill of the adventure here at Prison Island .
We recommend players choose the 1.5 Hour experience, as it is just enough time to get around all 25 challenges! For competitive teams that want to re-try a challenge, try our 2-hour experience. For anyone pushed for time, lock in our 1 hour experience for a teaser!
Our thrilling cells have various obstacles and brain teasers, there is something for everyone.
How does it work?
Step 1. WHOSE PLAYING?
Form your team – we recommend teams of 2-4 for the best experience! We can host groups of 2-80 players!
Standard Passes – 1hr, 1.5hr & 2hr Experiences for Adults (Over 16) & Children (Under 16)
Family Passes – 2 Adults & 1 Child or 2 Children & 1 Adult – just add your extra children or adults at the check out
Hens / Stags – 10+ players will receive a free gift
Large group discount – We offer 10% off for groups of 20+ players – Selected times only (typically Mon – Thur)
Step 2. PENCIL US IN!
Book your slot – get in fast as our spots fill up quickly.
Step 3. GET CREATIVE!
Name your team – keep it clean! We have a name generator on site for anyone feeling the pressure – just choose your category and take a spin on the wheel.
Step 4. LINE UP!
Get your MUG SHOT! What's your Crime? We have crime boards for most occasions. Get your convict face on!  Don't forget to leave us your Instagram tag!
Step 5. GET TAGGED!
You'll be given a game tag, along with a locker key for your belongings.
If you have played before – tell our Guards so we can print your previous score sheet
Step 6. HEAD TO CUSTODY!
Receive a short brief from one of our Guards.
Step 7. ARE YOU READY TO TAKE ON ONE OF THE BEST ADVENTURE ACTIVITIES IN BELFAST?
Start your game – we recommend starting on BASKET or JOKER!
Step 8. KEEP GOING!
Top up your time – if you want to increase your game time ask a GUARD who can add another half hour (should slots be available)
Step 9. WHOSE WINNING?
Check your score! Our real time leader boards load your scores throughout your prison stay.
Don't forget to scan your tag below the screen for a breakdown of each room you have played in! CHEATERS TIP: Snap a pic of your team playing, throw it on your IG story tagging @prisonislandbelfast for 100 points! Shhhh!
Step 10. RELEASED
Hand your tag into reception and receive a breakdown of your score! How did we do? Scan the QR code on your score sheet to let us know! We can only grow if we know!
FINALLY For anyone over 18 years old, head to the Axe Yard and throw axes to settle the score!
– this can be added on for £20pp and £15pp for SUNDAY SESSIONS (should a slot be free)
Enjoy a day out like no other!
Prison Island Belfast is a great place to spend a day of adventure with friends, family, or colleagues. With a wide range of activities, friendly staff, and café to refuel, it's the perfect way to celebrate any occasion.
Get out of your comfort zone and try something new!
The Adventure Continues!
Most adventure activities Belfast tend to be a one-off destination. Not Prison Island! Our concept invites players back time and time again to retry our challenges and beat their score. It helps that most of the challenges will fire up new questions, conundrums, or sequence to copy. No visit is ever the same!
Sound like the perfect gift?
We provide gift vouchers that you can purchase from our website – the perfect gift for any occasion.
A gift guaranteed to not be forgotten! Give someone the gift of adventure by loading up this Gift Voucher with the selected amount! Or choose our ' YOU DECIDE' voucher allowing the recipient to choose between adventure activities in Belfast – Prison Island or The Axe Yard!
All gift cards are valid for a full year.
Book now via our website for Northern Ireland's top adventure activities in Belfast.
Posted by ryan
On March 3, 2023
0 Comment