Why are corporate days out significant for your company?
"The way you treat your employees is the way they will treat your customers" is one to keep in mind by Richard Branson. 
Avoid splashing all your well earned budget at the bar and choose an experience that will bring your teams closer! Look no further than Prison Island & Axe Yard for the ultimate team building in Belfast.
Prison Island is made up of 25 challenge cells (inspired by the 'Crystal Maze'). A superb mix of Mental Physical & Skill based games. For the ULTIMATE EXPERIENCE, the majority of our corporate bookings go to the AXE YARD to throw axes.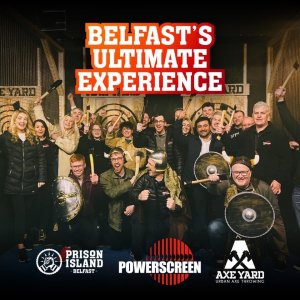 Prison Island & the AxeYard is the perfect team building in Belfast – a fantastic opportunity for co-workers who don't often collaborate on a daily basis to develop new relationships and collaborate using all of their problem-solving abilities in a short period of time.
​​Teams consist of two to four players. You must all enter the cells together in your team for the best chance to pass each challenge.
The Axe Yard hosts 4 lanes (8 axe targets) for your team to sharpen their aim and smash up some timber! All lanes have an axe coach provided to help you SINK SOME STEEL!
STRESS FREE PLANNING
Let us take the stress out of planning your team away day! We know what it is like to draw the short straw for planning team building in Belfast. We want to take the stress away and make booking in as easy as possible.
Get in touch and let us know your date of choice, your preferred timings on activities, as well as any catering needs and we will propose an itinerary that works best for your team and your budget.
We cater for all group sizes including large groups of up to 80 players at any time slot. For groups that exceed 80 players – we can split your groups across time slots.
For groups extending their prison stay in the AXE YARD- add food on to your package and enjoy some PIZZA as you continue the competition in our AXE LANES.
For smaller groups – we have a meeting room you can avail of.
WHAT YOUR DAY LOOKS LIKE
You'll arrive 15 minutes before your activity time– enough time to leave your belongings in our free lockers, split your group into their teams and get ready to HUDDLE.
After being tagged, your team will head into custody together (groups of 40+ plus will be split into two groups) for a short brief where you'll learn what to look out for and how to score points.
You'll then head into the prison together but play each challenge within your small teams.
You'll pass your colleagues in the hall whilst you check out the team scores on our leaderboard, a great excuse for some competitive slurs.
Your time will be ticking down in each challenge, with remaining game time visible on the leaderboard throughout the hallways. Once your time has finished, your tag will automatically stop working.
Please note, you are never locked in at any time.
Once all teams have exited the hallways and given their game tags back, your score sheets will be presented by a GUARD. We can make this as competitive, or non-competitive as you like.
A pitstop in the café is advised, then on to the AxeYard which is located just off the café. Each lane holds up to 10 players.
The group can enjoy some PIZZA or may opt to cater for themselves, before the Axe Yard safety brief.
A final throw down, involving the highest scorers from each lane will wrap up your visit. Feel free to chant and cheer, boo-ing for terrible throws is also welcomed.
Check us out on socials @axeyardbelfast
For large bookings (40+) groups will be split in two, with Group A taking on the prison first, and Group B in Axe Yard, followed by a swap over.
CREATIVE NAMES
Make your business stand out on our Prison Island LEADERBOARD – all your teams names are down to you! After booking your team building in Belfast, you will find a TEAM NAME REQUEST sheet to be filled out before arrival. We ask these are somewhat inventive, and unfortunately PG for underage prisoners. A strong opportunity for your business to stand out on our LEADERBOARD.
Remember, if you score high, your score will be locked on our LEADERBOARD until someone beats it. If our GUARDS are impressed by the team names chosen, they may offer 100 bonus points for creative team names (you'll need to catch them on a good day).
Our scoring system in Prison Island is fully automated. Using a live ranking system, you can compare your team against other teams, fostering some friendly competition between colleagues. All your teams will easily be recognised on the Leaderboard, each will have your company name attached and you will leave with an individual leader board for your company.
You can retry a room as many times as you want, only your highest score counts. Scan your key beneath the screens to see a breakdown of your score – competitive teams – make note!
Want to make your trip extra competitive? Let our Guards know!
Winning team? Want to rub salt in the wound? Grab the 'BEAT THE BOSS' CRIME BOARD and get ready to pose for your MUG SHOT.
Competition
Friendly competition can be a great way to build team morale and camaraderie. It can create a sense of fun and friendly rivalry that can motivate and inspire people to work harder and smarter. 
 It can also create an environment of collaboration and cooperation, as teams strive to outdo each other and achieve the best results. By fostering healthy competition and working together, teams are able to foster a sense of accomplishment and a strong sense of team identity. 
Team members seldom interact with every individual in your organisation when working for a company, especially if it's a big one. By doubling up on activities, this gives your team more chance to interact with employees of other departments as teams can be rejigged in the lanes.
Team building in Belfast JUST GOT COMPETITIVE!
Your employees can meet new co-workers through team building events. According to a Gallup survey, workplace connections increase a person's likelihood of being engaged at work by double.
DISCOUNTS
For large groups of 20+ players, we can offer a 10% discount off activities, at selected times.
Want to capture the day?
Leave your business social tags and we'll do all the work – Our Guards/Coaches will aim to get the best footage of your group, and compile this into a reel. This can be shared to your platform free of charge – just make sure you request this with a Head Guard. All TEAMS will have an opportunity to get a group photo in our CUSTODY area, this can be shared with you after the event.
SO WHAT ARE YOU WAITING FOR?
Move over EMPLOYEE OF THE MONTH – There is a new accolade on everyone's radar – Being the PRISON ISLAND & AXE YARD CHAMP!
For large groups of 30+ players we offer FREE return passes for the winning team!
Take the fun from zoom to our cells and lanes and give your team a day to remember. Do your team a favour and make this years 'OUT OF OFFICE' worthwhile…
Book now via our website for your next corporate team building in Belfast, Northern Ireland.
Posted by ryan
On March 6, 2023
0 Comment